Regular price
Sale price
£4.50 GBP
Unit price
per
Sale
Sold out
Since we switched to our new packaging we have less Oddbods* than before, however we know that many of you liked receiving them, and that's it's a great way of trying a new flavour of cheese!
Therefore we've decided to trial offering you the chance to add a Lucky Dip Oddbod to your cheese order*. You won't know what cheese it will be - it's a total surprise and could be blocks or jars!
Oddbods offer great value, especially if you like to use our cheese in cooking, they're great in a meal where you don't need a perfect looking block. It's exactly the same tasty cheese!
If the trial is a success we'll keep the Oddbod Lucky Dip as a permanent option. 
*Oddbods are only available as an addition to an existing order and cannot be purchased separately. 
Unfortunately we can't accept any requests for a particular cheese or to avoid a particular cheese as it will vary depending on what we have available that day. 
*If you're thinking..
"What on earth is an Oddbod when it's at home?" Allow us to explain. Oddbods are the pieces of cheese that are left when we cut our slices, they're the slightly scruffy cousin of our usual cheese blocks. They taste just as amazing but are sometimes made up of thinner slices or are perhaps a bit wonky. For the jars sometimes the jar label might have a mark on it or the weight is slightly under the required amount.
I used to call then Oddblocks, and Tash (a previous member of the team) would always call them Oddbods instead, and the name stuck! 
View full details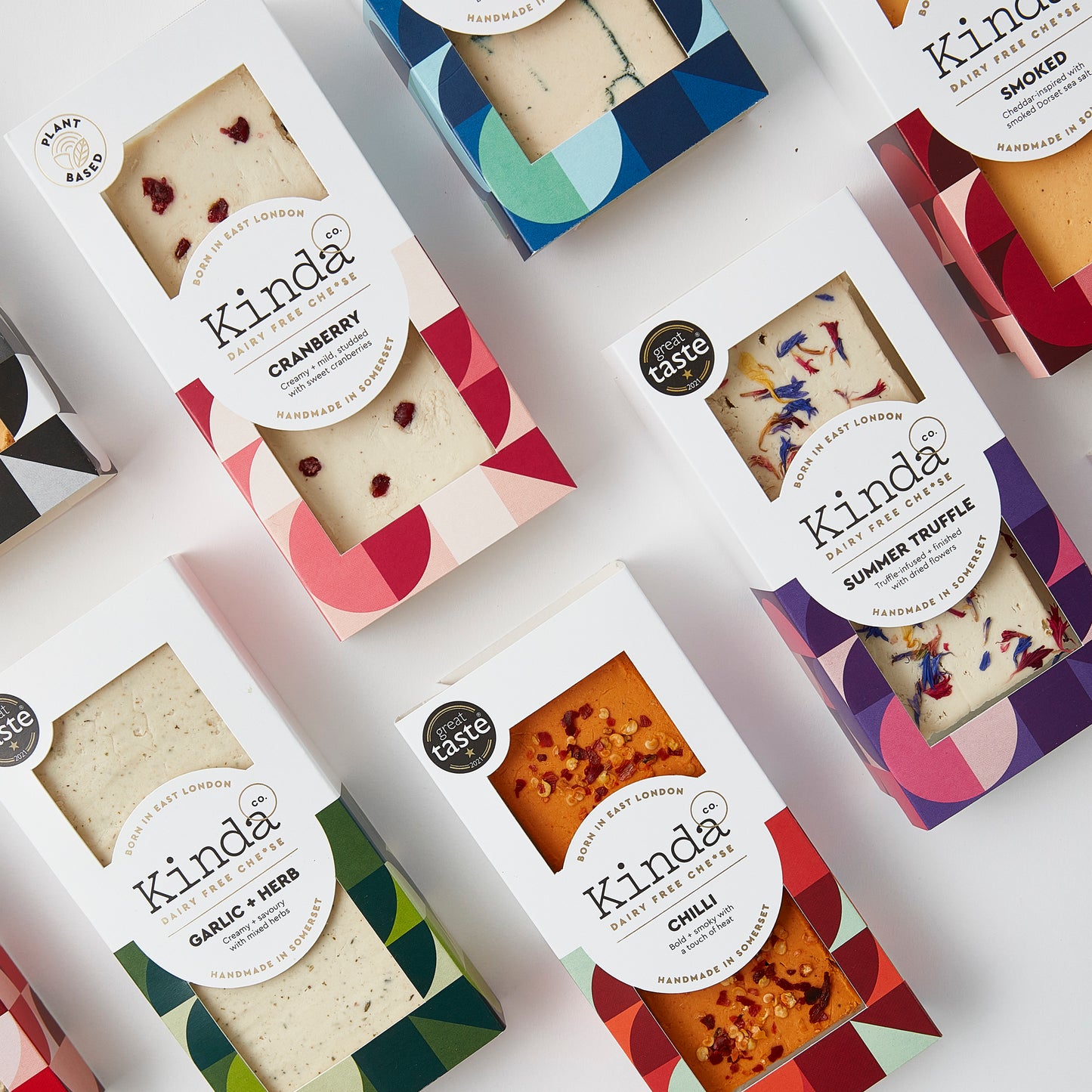 Perfectly imperfect
These cheeses are just as good as the precisely cut pieces. I ordered two, and received two of my favourites. Can't say which though! No spoilers.
Ever so delicious always. Thanks again <3
Oddbod - definitely will order again
I got the blue "cheeze" as part of my order, that is delicious, as said in title, will be ordering again
Odd bod for the win
I went for the odd bod option because I can never decide what flavours I want (so many good choices). I love the surprise of not knowing what it coming. Tried the Greek style for the first time and ohhhhh wow! It's so so accurate. I'm not dairy free but my partner is and I prefer the KindaCo Greek style to real feta.