Regular price
Sale price
£35.00 GBP
Unit price
per
Sale
Sold out
This bundle of six vegan cheeses from Kinda Co. is the ultimate cheese lover's dream. Each cheese in this collection is expertly crafted from the finest ingredients to deliver a delicious range of cheeses that are perfect for any cheeseboard.
The Farmhouse cheese is made with creamy, tangy cashews that are fermented to create a rich and full-bodied flavour. The Summer Truffle cheese adds a touch of luxury with its aromatic truffle flavour, while the Blue cheese delivers a bold and tangy taste that's perfect for pairing with fruit and crackers.
For those who like a bit of spice, the Chilli cheese is a must-try, with its fiery kick that will tantalise your taste buds. The Smoked cheese brings a smoky flavour to the table, reminiscent of traditional smoked cheeses, and the Garlic + Herb cheese is bursting with fresh garlic and aromatic herbs, making it a versatile and flavourful addition to any cheeseboard.
All of these cheeses are dairy-free, making them perfect for vegans and those with dietary restrictions. They are also gluten-free and free from any artificial flavours. Whether you're hosting a party or simply indulging in a delicious snack, this bundle of Kinda Co. vegan cheeses is sure to satisfy your cravings and leave you wanting more.
This bundle contains: 
Farmhouse 120g
Summer Truffle 120g
Garlic + Herb 120g
Smoked 120g
Blue 120g
Chilli 120g
View full details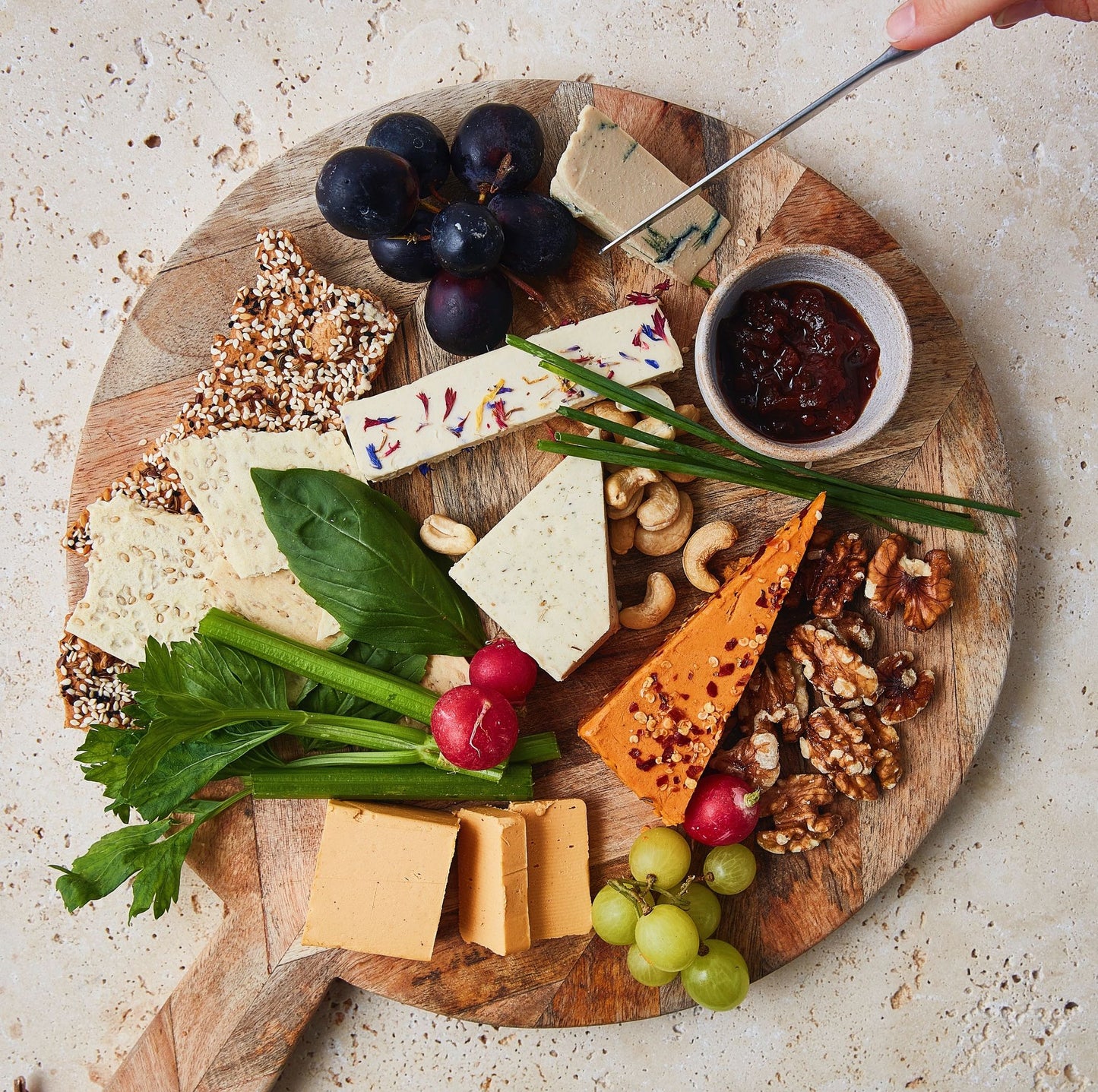 Best vegan cheese
Probably the best vegan cheese we've ever tasted. Great flavours and absolutely delicious!
Cheese back on the menu thank goodness
Can't thank you enough for your fantastic products. My wife went fully vegan a few years ago and has lost out on a number of her favourite foods, cheese definitely being in the top 3. Your cheese range is the only one she has found that is as good as the full dairy versions. It really does make her happy and I will continue to stock up on your range as often as possible.
Thanks again,
Paul
Guilt Free Cheeseboard
Received my cheeseboard selection from Kinda Co. and am blown away with each and every one. It's really hard to choose a favourite but Smoked Cheese has always been one of my favourites before becoming vegan and this definitely does not disappoint. The most difficult thing is trying to hide them from the rest of my family as I want them all for me ha ha... 5 🌟 review and would definitely recommend :)
Outstanding
I bought the 6 selection for an Easter treat, they are delicious. I think my favourite was the blue one. I will definitely be ordering again.
Brilliant
Definitely the best vegan cheese I've ever tasted. It's nice with Tesco crackers and home made marmalade. What's it made of?