Regular price
Sale price
£24.95 GBP
Unit price
per
Sale
Sold out
Be a part of our cherished cheese crew and receive a monthly box of Kinda Co. goodies straight to your door! 
Each month you'll receive a different selection of our cheeses, including special Limited Edition Flavours. You'll also receive samples of new products we're testing and generally be the first to try whatever delicious things are coming out of the cheese kitchen!
Every month you will receive 4-5 products, depending on item weight and value. 
The selection of products will be curated by us, with a variety of different cheeses each month to enjoy!
You can also add extra cheeses to your subscription each month, if you'd like to get your Farmhouse fix or want to nab a jar of Nacho Dip too. 
Cheese Club Subscriptions renew on the 12th each month, and your cheese parcel will be sent within 3 working days of renewal. Subscriptions can be cancelled at any time.
Unfortunately we cannot customise the cheeses in your box, including for allergies, as we are a small team and unfortunately it is not feasible to amend an individual order. However we are looking to offer a DIY cheese subscription so that you can pick your own Kinda Co. cheeses to receive each month.  
View full details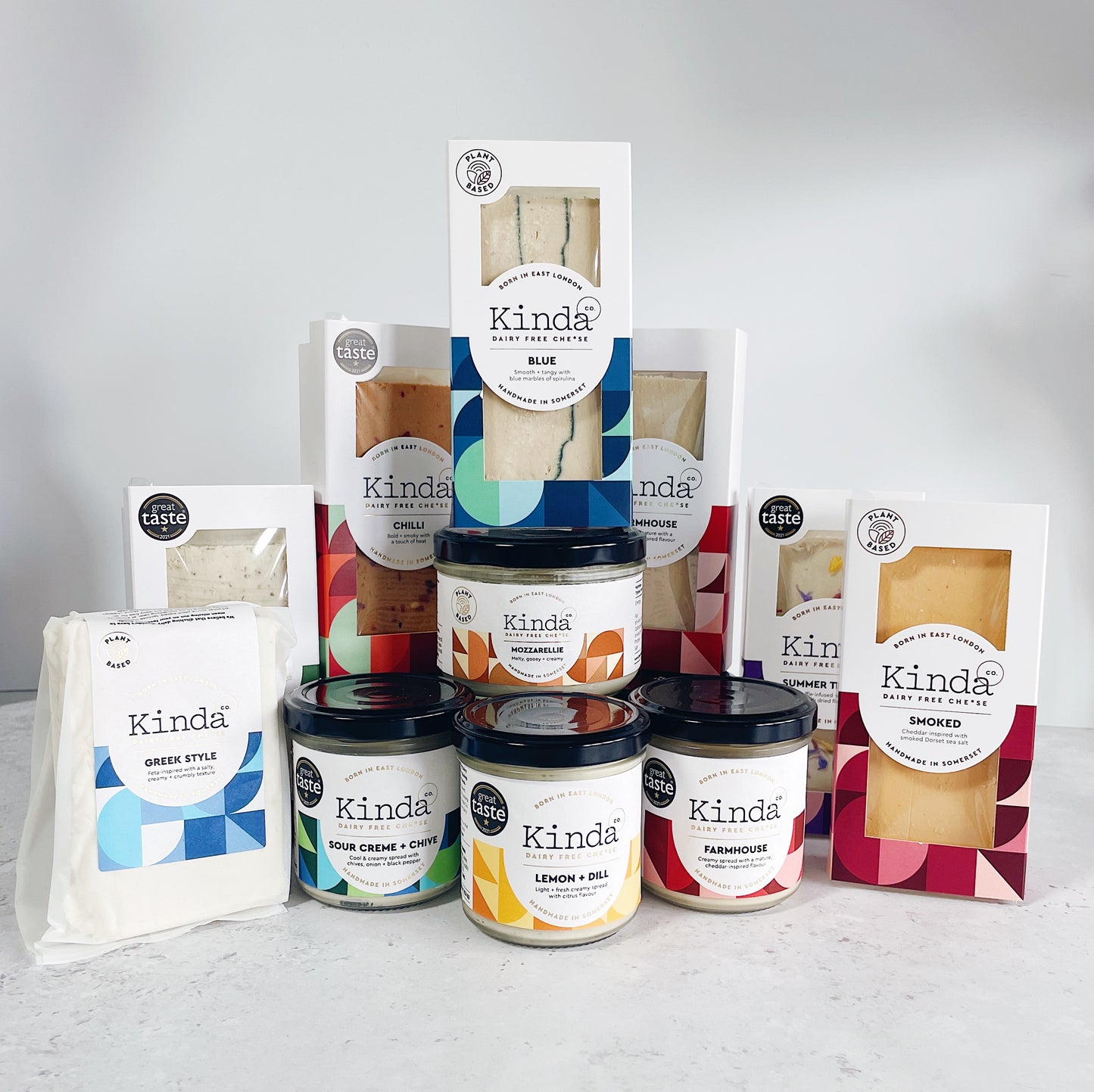 Kinda Cheese Subscription
Thank you for developing a subscription for the delights you send to us each month. Even the non-vegans adore your products; maybe a change for them is on the way? ;) I adore the taste of every cheese so far. Just need to try the marmite one, which is (my own fault) sold out. Love at first bite and forever more. Wonderful company. Best wishes for the future. May your business prosper. ⭐️💖🌱
Love it!
I was a fan of KindaCo anyway but it's great to get a mix of cheeses every month, plus the special limited cheeses and other products are really interesting.
What a beauty!
These boxes are an absolute delight, my favourite cheese arriving with extra special treats thrown in every month - what's not to love?! Highly Recommend!
Yummy grub
Enjoying the goodies. Bit alarmed at the sunflower oil in the limited edition cheese as I've been trying not to use it and found the cheese a bit salty. Apart from that I love getting a box to explore.
Great Idea
I love the idea of getting different cheeses every month. Put them in the freezer. Eating the lemon flavour creamy one at present and it's lovely.